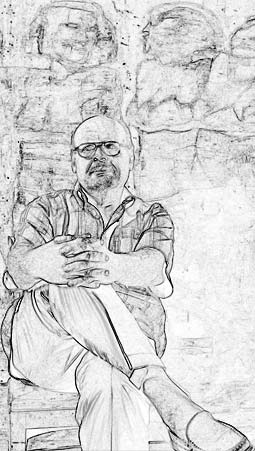 Samir Fouad
was born in Heliopolis, Cairo, in 1944 in an art-loving family, his father being an Islamic ornamentation artist and his elder brother, who was a pilot in the Air Force, an amateur artist and violin- player. He started practicing art at an early age and learned from his brother both painting in watercolours and violin-playing. Although he wanted to pursue a career in art he went instead, under pressure from the family, to Cairo University Faculty of Engineering from where he graduated with a B.Sc. in Communication Engineering in 1966.
During his university years he went, in 1964, to London on summer training where he was profoundly taken by the British watercolourists, especially Turner and Flint. After graduation he joined a British computer company, starting a long career in the field of information technology which lasted for 35 years. In 1969 he married a Briton and his first daughter was born in 1971 to be followed by a second daughter the following year.
He continued to practice art in parallel and continued to self-develop, by reading and visiting galleries and museums, particularly in England which he frequently visited, and where he held his first one-man show in 1971.
He went to Kenya on a job assignment in 1975, where he actively participated in the art movement in Nairobi and his son was born there in 1976.
When back in Cairo in 1977, he held an exhibition of works executed in Kenya.
From 1980 he worked with the eminent Egyptian artist Hassan Soliman, who helped him to further develop his abilities and actively introduced him to the Egyptian art scene.
He started to actively participate in the Egyptian art movement, but due to his mounting responsibilities in a very demanding career his participation was limited to exhibiting in national and collective exhibitions.
In 1997 Samir Fouad held a solo exhibition dedicated to his works in watercolours. This was highly successful and made him overnight one of the leading Egyptian watercolour artists. This was followed in 1999 by another exhibition for works in oil which was just as successful.
At the beginning of 2001, while enjoying a very rewarding career in the general management of information technology, he decided to retire from his job and solely devote himself to his career in art. During this period his intimacy with Egyptian subjects such as swings, the oriental dancer, and maidens of the Nile started to show, as well as his fascination with the depiction of the element of time and movement.
Since 2001 he has held ten solo exhibitions and represented Egypt in the Mexico 2002 Watercolour Biennale, and the 2011 International Luxor Symposium.
His works were exhibited in various countries such as the USA, UK, Russia, Dubai, Kuwait, Lebanon and Saudi Arabia.
He wrote a book about watercolours considered the only reference in Arabic about this medium, and co-wrote a book about artist Hassan Soliman; he has also had various critical essays concerning art published in leading art and cultural publications.
Samir Fouad
's world is driven from various streams; music is an integral part of his conscience, and growing up in Heliopolis in the post-world war era gave him this cosmopolitan feeling. His continuous search into the human existence and readings in various branches of literature and science, together with his long career in IT, give him a distinctive artistic vision.
He searches beyond the visual and does not cease to experiment, his work drawing from the heritage of painting to the horizons of modernism. Above all, deep inside, he is thoroughly Egyptian, selecting the subjects of his paintings from the culture and soil of this land.